Retaining Walls
Do you have an uneven area in your property or landscape? If your answer is yes, then consider constructing a retaining wall to transform that area into something functional. Landscape retaining walls are a great way to make your outdoor spaces usable by providing an area for pool, patio, or plants. And since it reduces slope, it also turns the area for easier mowing. This becomes ideal for you if you love plants as this can also create terraced gardens or function as plant boxes.
If you reside in Indiana and Illinois, like Crete, Beecher, and Stager, Illinois, and Highland of Indiana and Chicago Heights, Lansing, and Calumet City of Illinois, you can rely on Dean's Lawn & Landscaping. Our company can assist you in the construction of retaining walls on your property.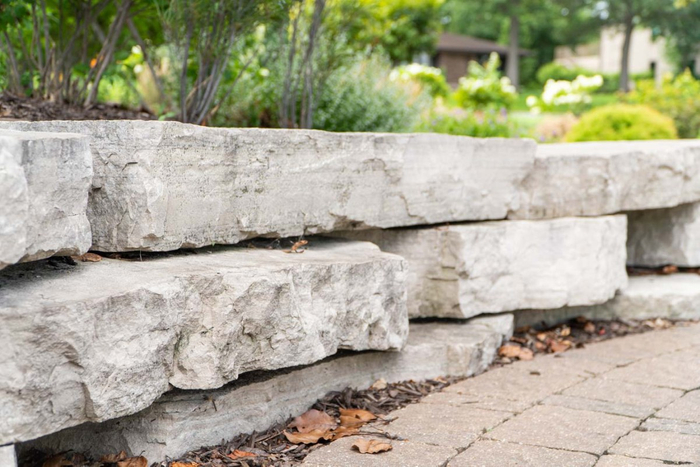 MATERIALS FOR LANDSCAPE RETAINING WALLS
There are different pavers and stones that can be used in the construction of retaining walls. Some of them are listed below:
Bricks: This is an expensive wall material as this is mortared at the joints. When using brick for retaining walls, concrete has to be built first as brick will be mortared to the wall after. It is a natural material formed from clay and it complements bluestone very well.
Mortared Stone: This is a material that creates a very nice-looking retaining wall in the landscape. However, this is also an expensive retaining wall material since this is made of natural stone. The stones are available in different sizes. They can be naturally formed or can be made thinner, which is called face stone.
Dry Laid Stone: This element is composed of natural stone. Fieldstone is the most popular choice when using this type of material for retaining walls. There are three selections to choose from and the choice usually depends on the height of the retaining walls.
Whichever retaining wall material you would like to use, Dean's Lawn & Landscaping can assist you in giving your retaining walls the best look. Our specialists have years of experience in doing this type of construction so we know how to build functional retaining walls. Our construction can last for years because of the high standards we follow to ensure our clients are satisfied with the final product!
BELGARD FOR LANDSCAPE RETAINING WALLS
Dean's Lawn & Landscaping specifically recommends the use of Belgard pavers when constructing landscape retaining walls. This is because of the versatility it offers. Essentially, Belgard pavers can be arranged in a wide array of styles and patterns, perfectly complementing any landscape, and is proven to enhance the overall look of a property.
The Belgard products that we use on landscape retaining walls can withstand all forms of climate for many years. On top of that, it can resist extreme temperatures and can remain stable under different conditions. This is the reason why many landscaping companies and contractors rely on Belgard products.
If you want to ensure the aesthetic and durability of the retaining walls in your landscape, make sure to contact Dean's Lawn & Landscaping. Our countless retaining wall projects in Indiana and Illinois are proof that we are a reliable retaining wall builder. Contact us today!