Landscape Design & Installation
Landscape Design & Installation
No need to get jealous of your neighbor's beautiful landscape. You can have an even more beautiful display of glamour, style, and elegance right outside your home. Dean's Lawn & Landscaping will help you achieve your dream landscape. Our expert team is experienced in landscape design and installation. We are proud to be one of the most trusted landscape companies in Indiana. Just take a look at our online portfolio and be amazed by our creations!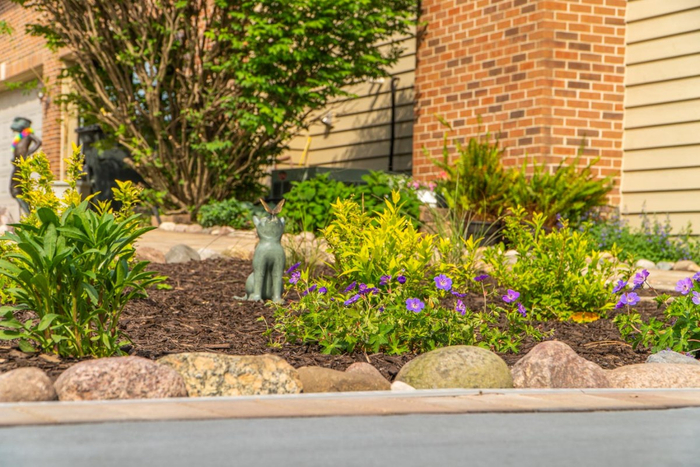 LANDSCAPE DESIGN SERVICES
Building a stunning landscape starts from building a concept. That's where landscape design comes in! Our more than 30 years of experience in the business has made us landscape design specialists in our own rights. Our approach to landscaping design is to combine what you need or want with what is the best and most practical.
That is why our first line of business with this phase of landscaping is talking with you about your preferences. We also understand that you might not be sure where to start when it comes to the possible designs for your landscape. That's why we often recommend designs based on how you want to enjoy the outdoors, like a pool, an outdoor kitchen, a patio, or a classic garden.
It is also important to check the site for possible landscape design limitations and the preparations necessary to make it possible. Building retaining walls, for example, is a must to clear a soil-packed area. Other parts of the soil might need fertilizing to make it possible to build a classic garden. Some parts might also need to be covered with paving stones or a concrete slab before it can be used for an outdoor kitchen or living room.
Finally, before we start the landscaping process, you will see the blueprint for the final landscape design. This will give you a better idea of what you can expect your final landscaping to look like. And believe it or not, this is just half of the job!
LANDSCAPE INSTALLATION SERVICES
With our landscaping installation services, we can bring your beautiful landscape design to life! Dean's Lawn & Landscaping is not just any ordinary landscaping company. We offer a complete set of landscaping services ranging from design to installation!
Our landscaping design team is composed of professionals knowledgeable in the different aspects of landscape installation. We have certified landscape installers, certified chemical applicators, and experienced gardeners. This means that you can rest assured that our team knows what they are doing and will be able to get the job done — whatever kind of job it is!
Besides our excellent manpower, our landscaping company has all the necessary supplies to finish your dream landscape. We have partnered with the best manufacturers and suppliers in the industry to get top-notch products that will guarantee the most durable and beautiful construction. Our pavers are from Belgard, a world-class manufacturer of the widest varieties of pavers. We also have our own garden center to make it easy to fill the landscape with trees, flowers, shrubs, and lawns.
LANDSCAPING EXPERTS IN NORTHWEST INDIANA
We are always confident with every project that we have finished. Take a look at our online portfolio to get an idea of the potential of your outdoor spaces. For the past 30 years, we have worked with different kinds of clients — from residential to commercial — all over Chicagoland area and Northwest Indiana. Take a look at our available services to get a better idea of how we can help you and give us a call or email to get started! Our team is ready to promptly attend to your landscape design and landscape installation needs.