In Ground Pools
You may want to upgrade your backyard living space by adding a pool. Well-designed and installed swimming pools can add so much value to your home and lifestyle. Premier Pools and Spas can design and build the perfect in-ground pool that enhances your family's lifestyle. They are a full-service pool-building company. When it comes to creating pools, the perfect pool reflects who you are and brings your family and guests closer by creating long-lasting memories. They serve homeowners, complex commercial properties, and small businesses throughout Schererville, IN. and the surroundings.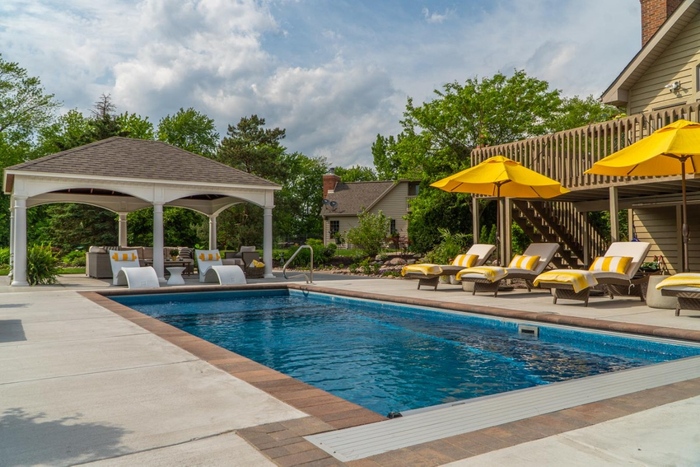 HIRE THE POOL & OUTDOOR EXPERTS
Premier Pools and Spas © are an outdoors and pool expert in St. John Township with over 30 years of experience in transforming outdoor living space and creating paradises. They design and install in ground pools to meet all types of needs and preferences our clients have. You may want:
A small in ground pool with a screen-room enclosure and a tanning ledge
A lagoon with a lush green waterfall
A sleek infinity design with a spa
They offer an excellent selection of fiberglass pools for you to choose from. These pools can be installed in quick time, are durable, and require minimal maintenance.
BENEFITS OF IN GROUND POOLS
A well-designed in ground pool will enhance your quality of life in many ways. Swimming and spending time around the pool is an instant way to add fun to your everyday life. People like spending time in and around water and adding a pool to your property can prevent the need to go to the local swimming pool facilities in your town.
Some of the key benefits of installing an in-ground pool in your home are as follows:
Longer Lasting: A pool built into the ground tends to last longer. The structure is more durable and stable and can withstand wear and tear and the elements.
More Fun: You can jump into an in-ground pool and spend relaxing time at home during the hottest days. It can be a fun place to spend time with friends and family. And with a heater, it can continue to be your fun-place all year round.
Greater Privacy: It also provides greater privacy. So, you will not have to worry about anyone around being able to see your not-so-perfect physique. If you prefer a little privacy when spending time with your partner, an in-ground pool can offer just that.
Enhance Your Home's Value: In ground pools can add significant value to your home. If you ever decide to sell your house in the future, you can expect good returns for the investment you make today.
PPS APPROACH TO POOL CONSTRUCTION
Before the process begins, there will be an initial consultation and discussion phase followed by the design phase. Premier Pools and Spas © in-ground pool specialists will discuss your design preferences, lifestyle, and specific needs to create a pool design that perfectly matches what you are looking for.
During construction, they will ensure that each stage adheres to their established high standards. This plays an important role in ensuring that your pool lasts for long. All pools and other hardscape features come with a written warranty to give clients total peace of mind.
CREATING THE PERFECT POOL FOR YOUR LANDSCAPE
Who better can design and create the perfect pool for your landscape than a full-service Pool building company? Premier Pools and Spas © have been providing pool services services in Northwest Indiana and the Chicagoland area for over 30 years. They design and create pools ranging from small in ground pools in basic shapes to top-end masterpieces for your backyard.
Get the in-ground pool you want no matter the style, shape, or complexity. If you want to know more about Premier Pools and Spas © services or if you want to fix an appointment, give them a call at 219-203-3434.