Landscaping Services in Valparaiso, IN
Are you looking to update your outdoor living area and yard to the current style, functionalities, and form? Hardscaping can help improve your property in the desired ways by turning pavers, stone, brick pavers, and other materials into beautiful and functional structures that last for decades or even a lifetime. We at Dean's Lawn & Landscaping have over 30 years of experience in designing and incorporating hardscapes into all types of projects to create more beautiful and practical spaces. We provide our hardscaping services throughout Valparaiso, IN and the surrounding areas.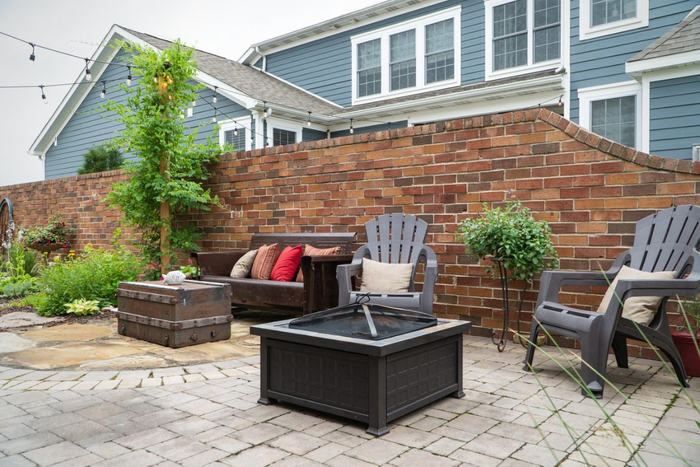 TYPES OF HARDSCAPING SOLUTIONS
We design and install all our hardscaping projects in Valparaiso, IN using quality craftsmanship and careful attention to detail, creating features that last long and work as beautiful additions to our outdoor living space. We can create most types of hardscapes to meet your unique functional and aesthetic needs. This includes:
Patios and Decks
Retaining Walls
Pavers, Brick Pavers and Concrete Pavers
Outdoor Living Areas
PATIOS
We create patios that provide more space for you to relax, enjoy the outdoors, entertain guests, and spend quality time with people you love. At Dean's, we take pride in installing patios using different types of materials and providing all the features you are looking for in your outdoor living area. We work with paver patios, brick pavers, concrete pavers, and any other material ideas you may have. If you have certain ideas or visions about how your yard should look like, we can transform them into reality.
RETAINING WALLS
Well-planned and installed retaining walls can not only fix various soil erosion and drainage issues on your landscape, but they can also add a more practical yard space. We can also design retaining walls to make changes to your landscape for aesthetic purposes. Again, we can work with a wide range of materials, patterns, and colors. Thus, we have the capability to help you create a feature that is durable, elegant, and functional, and brings stability to your landscape in several ways.
OUR HARDSCAPING DESIGN PROCESS
All our hardscaping projects begin with discussing your requirements and understanding your vision and ideas. We will want to know about all the features that you will need to be included in the hardscape. Even if you are uncertain about your goals, we will walk you through the design process and assist you in choosing the right features for your needs and the available space. Once the design process is complete, we will provide a quote for the job and begin the installation once the quote has been approved.
CHOOSE THE EXPERTS IN HARDSCAPING
We are a full-service landscaping company. This means we specialize in designing and installing both hardscapes and landscapes. Our team of licensed experts can turn your residential or commercial landscape into a beautiful, functional, and impressive environment that will leave your guests and neighbors stunned.
We understand that every client will have their unique dream landscape. Our experience, skills, and resources allow us to help transform all types of dreams and visions into reality. Whether you need only a new patio or a simple stone walkway or you want to create a complete outdoor oasis comprising multiple hardscape features, we can create the outdoor living space of your dreams. We specialize in creating hardscapes that work as great focal points and accent your outdoors.
If you need more information about our services, feel free to contact us today. Dean's Lawn & Landscaping has been designing and installing landscapes and hardscapes for over 20 years. There is no plantscape or hardscape feature that we cannot create for you. Whether you are a homeowner, business owner, HOA, or civic organization, we have the experience and expertise required to complete your project. We serve clients in Valparaiso, IN and the surrounding areas within the greater Northwest Indiana and the Chicagoland area.
Give us a call at 219-864-9078 to discuss your project goals and requirements. You may also send us a message using this Online Form.