Pools, Jacuzzis & Fountains in St. John, IN
Pools, Jacuzzis, and water features define the ultimate in outdoor living luxury. Premier Pools and Spas specialize in creating beautiful, functional, and complete outdoor living areas. As a full-service landscape design and installation company in St. John, IN, we have partnered up with Premier Pools and Spas who specialize in designing and installing swimming pools. With over two decades of industry experience and presence, we provide our services to both residential and commercial clients in the region.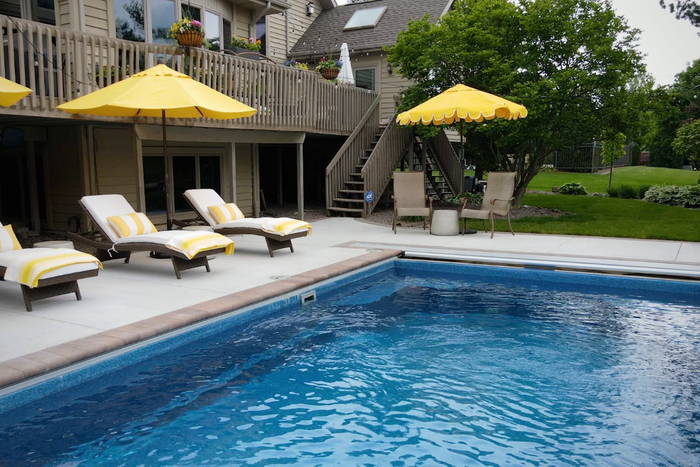 BEAUTIFULLY DESIGNED SWIMMING POOLS
You may want to add a new custom pool to your yard, or your old pool may be outdated and needs a replacement or renovation. Whatever your needs, Premier Pools and Spas crew of pool designers and installers can create the pool of your dreams. Whether it is about swimming pools or lap pools, they provide comprehensive and all-inclusive quotes to prevent any surprises. Besides, they can also provide maintenance services for the life of your pool.
The performance and longevity of your pool depend on the quality of the installation. This makes it important to choose an experienced and qualified team of pool installers in St. John, IN.
ELEGANT JACUZZIS FOR OPTIMAL COMFORT & RELAXATION
Installing a quality Jacuzzi can transform the way you and your family spend their time together. Well-designed and professionally installed hot tubs can also contribute to making your life healthier and happier. Premier Pools and Spas are passionate about designing and installing Jacuzzis suited to the form and function of your outdoor living area and your lifestyle. Besides helping you find and install hot tubs from reputed brands, they can also create customized solutions to address your unique needs.
Their experienced and specialist team can help you choose the right Jacuzzis, deliver, and install them on your property, almost anywhere in greater Northwest Indiana and the Chicagoland area. From installation to maintenance services, they can take care of everything.
FOUNTAINS INSTALLATION AND DESIGN SERVICES
Well-designed and well-positioned water features have the potential to turn your outdoors into a paradise. We also specialize in installing Fountains of all sizes and with unique features. We install outdoor water fountains and backyard fountains. Based on the goals and applications of the water feature, we can also create unique management strategies.
We work with all types and styles of fountains. The waterfall design is one of the most popular styles. We can combine the elegance of natural stone and the durability of concrete to create a natural-looking water feature that will last for decades.
COMBINING WATER FEATURES WITH POOLS
Water features or waterfalls are often used as the focal point on swimming pools. We have the experience and expertise in designing and building water features in combination with Premier Pools and Spas. Their pool, Jacuzzi, and fountain designers have worked with all types of designs under the roof. Combined, we have all the experience you will need for your project.
Water features are not just aesthetically pleasing, they can add a level of luxury feel to your yard that no other outdoor features can. Besides, water fountains can be incredibly relaxing and calming, creating a sense of outdoor spa for your pool. Besides, this luxury upgrade will always enhance your property's value.
When it comes to pool and Jacuzzi design, many factors need to be considered. Premier Pools and Spas, have spent over 30 years and have figured out all the factors involved in creating perfect and custom designs. If you are in St. John, IN or the surrounding areas, feel free to contact us for more information on Premier Pools and Spas pool builder services. You may call us at 219-864-9078 or contact them on 219-203-3434.